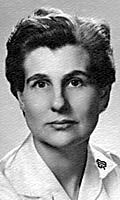 Amanda Roth Block
Long-time Indianapolis resident and prominent figure in the Indianapolis art community, passed away at her home surrounded by her family in Redondo Beach, California, on November 8th, 2011. She was 99.
Amanda was long a successful and talented Indiana artist specializing in Abstract Expressionism. A skilled print-maker and painter, her work graces homes and businesses in Indianapolis and around the world.
She was born into a prominent and illustrious Jewish family, on February 20, 1912, in the home of her grandfather, Bourbon legend I.W. Bernheim in Louisville, Kentucky. Named for her grandmother, Amanda Uri Bernheim, she was the daughter of Helen Bernheim Roth and Albert Roth of Cincinnati, Ohio. Amanda attended Smith College, but dropped out to marry Gordon Joseph Wolf of Cincinnati, Ohio, in 1931. They had one son Joseph Gordon Wolf divorcing in 1947. She remarried Maurice Block Jr. of Indianapolis, Indiana, in 1948.
Amanda began her art career attending classes at the Art Academy of Cincinnati, Ohio, first exhibiting her sculpture at the Art Institute of Chicago in 1941.
Childrearing and divorce occupied her until she was able to return to art school during the fifties. Her real work began in 1960 upon graduation with a BFA from Herron School of Art of Indiana University in Indianapolis, Indiana, where she lived with her husband, Maurice Block Jr., the President of the William H. Block Co.
From 1960 until 1983 she produced hundreds of prints, paintings, drawings, and mixed media images, at which point she retired from active production. Many shows across the country, numerous purchases by museums and private collectors, and acceptance at the highest levels validate her career. Additionally during this time, she taught drawing and lithography at the Herron School of Art, where she was thought to be a gifted and talented instructor.
In an article by Julia Moore, the author sums up Amanda's art saying, "the figural work of Amanda R. Block falls between the traditional and the avant-garde, between simple and subtle, between passion and control. Although she is better known for her large abstract landscapes in acrylic and her decorative, colorful lithographs from the middle and late 1970's; ultimately, it is through the figural work that one may truly understand this complex artist."
Her work only seems to improve with the years, becoming more accessible, and more appreciated as her unique sensibilities and superb color sense come more in line with today's artistic values.
Amanda was a much-loved member of the Indianapolis Jewish community. She is survived by her son, Joseph Wolf, her daughter-in-law Keala Wolf, her step-children, Susan Potterat and William Block, her grand-children Gabrielle Wolf and Harrison Wolf, and her step-grandchildren, Jonathan Smith, Nico Potterat, Anna Potterat, and Tim Somers.
Her work may by viewed at her website: AmandaRBlock.com. In lieu of flowers, cards, or gifts the family requests tax-deductible donations be sent to the Amanda and Maurice Block, Jr. Fund at the Bernheim Arboretum and Research Forest in Louisville, Ky.
Published in the The Indianapolis Star on November 13, 2011
- See more at: http://www.legacy.com/obituaries/indystar/obituary.aspx?n=amanda-r-block&pid=154576126#sthash.qMk81t5i.dpuf